OUR PRODUCTS:
Spot transaction
Ideal for the immediate purchase of currency. Book your rate online or through your dealer over the phone. Once Currencies Direct has received the funds from you, the currency is immediately sent out to your beneficiary details specified in your contract note.
Forward contract
Perfect for budgeting for a property purchase, or if the exchange rate is favourable and you know you will need to move a large amount, the forward contract enables you to lock today's rate up to a year in advance. You only need to leave a small deposit, and pay the rest later; once Currencies Direct has received payment for the currency, the funds will be sent out to your beneficiary account details on the maturity date of the contract.
Time option
This contract is similar to a Forward contract, but with more flexibility. You can buy the currency up to a year in advance; however, unlike a Forward contract, you will be able to draw down on the funds whenever you need to (as long as the funds have been received by Currencies Direct); this can be done all at once or bit by bit.
Regular Transfers
These are ideal for anyone making monthly or quarterly payments out of the UK. The payments could be for a number of reasons such as paying off a mortgage overseas, maintenance fees on a property, topping up an overseas account for living funds, sending your salary home; whatever the case may be, our Regular Transfer Plan (RTP) takes the hassle out of regular payments. We will set you up with a direct debit so that your payments come out of your account on a monthly or quarterly basis. The exchange rate is booked with all other Regular Transfer Plan clients at 10am on the due date of the RTP run (if this date falls on a weekend then the rate is booked the Friday before).
Limit orders
Limit orders are a great way of ensuring you don't miss the exchange rate when the markets are moving and so achieve the rate you want. If the exchange rate is close to where you want it, you can target your desired rate with your dealer, using a limit order which monitors the rate 24/7. As soon as the rate reaches an achievable level for us to buy your currency, then your limit will trigger the purchase of your currency. These deals are good until cancelled, so if the rate doesn't reach the level you want it to in the time frame available, then you can cancel the contract at no extra cost.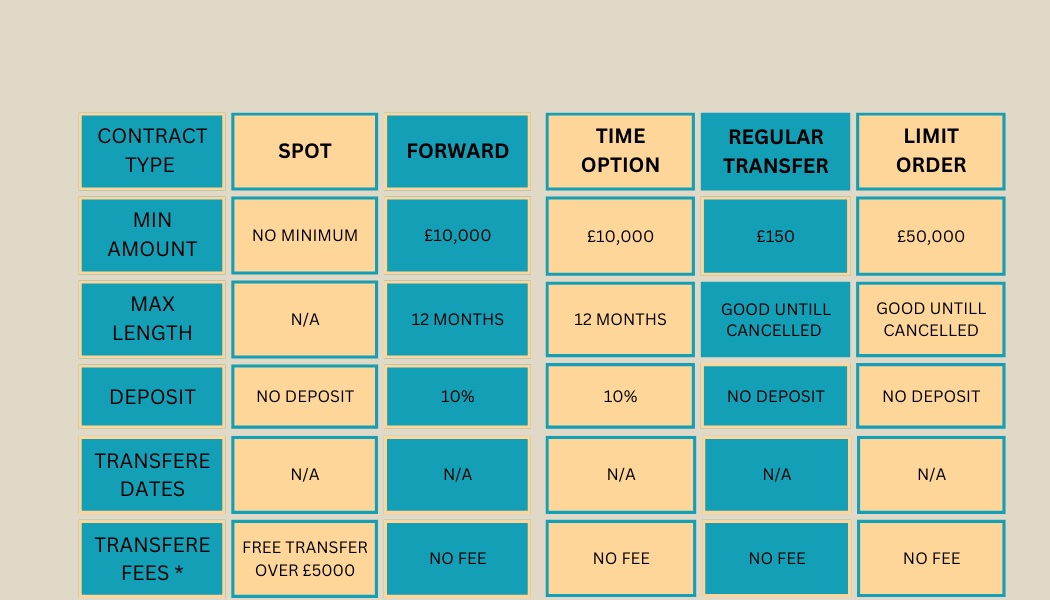 iPayFX Our new online international payments system designed to make online international payments easy. You can store your beneficiary details on the system, make regular payments, add new beneficiaries or edit existing ones, whenever required. iPayFX has live market rates which constantly change with the fluctuating market so you benefit from the most current market position. Once you agree the rate, it is locked in and you know exactly what price you will pay for your currency. You can review a statement of all your transactions in the system providing you with a record of all online payment platform payments.
Join Currencies Direct through www.insuranceinspain.com and gain additional discounts on your house, property or car insurance.
Updated 31st May 2023