WEBSITE TERMS OF USE
PLEASE READ THESE TERMS OF USE AND CONDITIONS CAREFULLY BEFORE USING OUR WEBSITE WWW.PROPERTIESFORSALEINSPAIN.COM AS THEY ARE A LEGALLY BINDING DOCUMENT BETWEEN YOU AND US.
These terms and conditions will tell you the legal requirements for using our website:- www.propertiesforsaleinspain.com - referred to as the "site". Throughout this document we refer to these as "terms". Any references to "you" and "your" are references to the user of this website.
By using our website:- www.propertiesforsaleinspain.com you are agreeing to be bound by these conditions. These terms and conditions may also make reference to other terms and conditions that may apply while using our site, such as the Privacy Policy and our Cookie Policy.
You are granted access to the www.propertiesforsaleinspain.com website and to purchase or use our services subject to the terms and conditions as set out on this page.
Who we are
www.propertiesforsaleinspain.com is a unique digital property portal for the use of Estate Agents and property buyers and sellers to find, see, visit and purchase or sell through this portal.
We provide a contact service between buyers and sellers to facilitate an efficient transaction between property buyers and sellers. www.propertiesforsaleinspain.com does not have any direct involvement in any transactions that may arise from such a contract.
We do provide additional property services that may be specifically related to property, whether that be insurance, lawyers, maintenance or services that property buyers and sellers may find of interest or contain information of use to them.
Data Compliance
We acknowledge and agree that any of your personal data will be processed in accordance with the applicable data protection laws. By using www.propertiesforsaleinspain.com a subsidiary of Plegasus Europe SLU, you agree to the collection and use of information as per the data protection and usage laws in Europe under the regulations as laid out by the G.D.P.R: - General data protection regulation and act 2018.
You consent to receive promotional emails about our products and services.
If you agree, Our Company will share your data with our partner companies so that they may offer you their products or services.
· Insurance in Spain
· Protectapet
What are your Data protection rights?
Our company would like to make sure you are aware of all your data protection rights.
Every user is entitled to the following:
The right to access – You have the right to request Our Company copies of your personal data. We may charge you a small fee for this service.
The right to rectification – You have the right to request that our Company correct any information you believe is inaccurate. You also have the right to request our company to compete information you believe is incorrect.
The right to erasure – You have the right to request that our Company erase your personal data, under certain conditions.
The right to restrict the processing – You have the right to request that our company restrict the processing of your personal data, Under certain conditions.
The right to object to processing – You have the right to object to Our Company processing of your personal data, under certain conditions.
The right to data portability – You have the right to request that our company transfer the data that we have collected to another organization, or directly to you under certain conditions.
If you make a request, we have one month to respond to you, if you would like to exercise any of these rights, please contact us at our email:
info@propertiesforsaleinspain.com
Cookies
Cookies help us remember who you are and what you were looking at on our website. They help speed up your search process and allow us to save your information specifically for you. They allow you to log in time and time again and retain the information you wanted. Without them you would not be able to save a property search.
We do use third party cookies such as a YouTube video or Vimeo and others.
Some cookies allow us to monitor our website so that we can improve our services. They give us statistics and help us determine when our site is not working properly.
Changes to our Terms and Conditions
We reserve the right to make any changes to our terms and conditions on our website as it is, and will be, regularly updated. Please check these terms and conditions each time you visit the website.
Changes to our website
We reserve the right to make changes to our website, with updates, to change the content, or suspend or discontinue any aspect of the site, which may include your access to it. We will do our utmost to maintain access to our website, and ensure the uninterrupted access to the website. Due to the nature of the website this cannot always be guaranteed and suspension of accounts may be necessary from time to time to allow for maintenance, to introduce new services and updates.
Limited Licensing
www.propertiesforsaleinspain.com will grant you limited access to use our website for the purpose intended. You are not permitted to download, copy or distribute any content without our express permission or where permission is automatically granted for sharing purposes.
This license does not permit you to copy and use any listings, descriptions, photographs, data or information for data gathering purposes. It cannot be reproduced, copied, sold, resold, or exploited for commercial purposes.
The website cannot be used to extract keywords or hidden text or our trademarks and comments copied and used for any means without our written consent. You may not use any Meta tags, names or trademarks that appear on our site and any unauthorised use will result in the termination of your account and the possibility of legal action being taken against you.
Hyperlinks
With our permission you are granted the limited non exclusive right to create a hyperlink to any page of www.propertiesforsaleinspain.com provided the link is not to defame, make misleading or false statements or portray www.propertiesforsaleinspain.com in a derogatory, misleading or offensive way.
Conduct using our website
All Properties photos uploaded onto Properties for Sale in Spain website must be Logo free.
You must not use our website with the intention of committing a criminal offence, fraud or any other unlawful activity. You may not use or reuse any material that does not belong to you, that is or may be construed as offensive, abusive, obscene, rude, defamatory, indecent or anything that might be in breach of copyright or trademark and that which may be construed as illegal.
You must not hack or try circumventing the security of our website or misuse it in any way, such as disrupting operations, introducing viruses or any material that could be construed as malicious. The use of any automated programs, copying or using inappropriate language or soliciting any commercial data for use by any third party, is strictly prohibited.
Copyright and Database infringements
Content on our website is protected by copyright and database protection laws. All software and data used on this website is the property of www.propertiesforsaleinspain.com or its affiliates and software suppliers.
Statutory rights
Your statutory rights are not affected by these conditions.
Data and information
When you communicate with us you are allowing us to contact you by email, telephone, by posting on the website or by any means necessary to communicate with you and you agree that all communications that we may have with you electronically, satisfy legal requirements in that we are communicating with in writing, unless by direct telephone conversation.
Privacy policies of other websites
propertiesforsaleinspain.com website contains links to other websites. Our privacy policy applies only to our website, so if you click on a link to another website, you should read their privacy policy.
Third Party Alliances
We do provide links, to other parties that we deem to be appropriate to conduct our business with affiliates and other related businesses and they may appear on our website from time to time. We do not endorse or guarantee the services of these businesses, although every effort is made to ensure that they are offering a bona fide service. www.propertiesforsaleinspain.com cannot, and will not be held responsible for any third party or affiliate action or inaction that may result in any form of loss whatsoever. The views expressed by users on our site do not necessarily represent our views or values.
Misinformation
As www.propertiesforsaleinspain.com lists hundreds of properties regularly, it is not possible for us to check the accuracy of the information and therefore you agree to indemnify www.propertiesforsaleinspain.com and all of its affiliates for and against any claims brought by a third party against www.propertiesforsaleinspain.com.
It is your responsibility to inform us if you believe that misinformation has been added to or used on your listing or that listings are not what they appear to be. By contacting us on our contact us page, we will investigate the matter and take the appropriate action.
Log In
You will be responsible for maintaining the confidentiality of your account and password and for restricting access to your computer or devices used to prevent unauthorised access.
Please ensure your details are correct and complete at the time of registering.
Warranty and Guarantees
The information contained on this website is for general interest purposes only and does not constitute specific advice.
We are not an Estate Agency. The information provided on our site are from affiliates, Estate agents and property personal that have a vested interest in selling their properties through our property portal.
We do not verify the property details that are provided to us by our affiliates and give no warranty or guarantee of their representation or accuracy.
Liability
We do not accept any liability for any consumer or business user or for any software failures, Internet errors or unavailability or anything beyond our reasonable control. We do not accept any liability for loss of passwords or account ID caused by whatever means.
We will not be held liable for any consumer or business user for any losses, however caused, for any digital content, damages or digital content belonging to you and we have no liability for any loss of profit, loss of business, damage, tort including negligence, loss of revenue, interruption, sale of the property, anticipated savings, time, goodwill and or reputation or any consequential loss or damages relating to or from this site.
Pay Per Lead
www.propertiesforsaleinspain.com works on a pay per lead system. No Fees & No Commission! You simply only pay for the Client Leads you receive on your property!
Simple as that!
If a prospective buyer makes an enquiry about your property, you will be notified via email. Simply login to your personal dashboard and click to view enquires. Purchase a credit for 3€ (+iva) and use it to unlock the contact details of your enquiry. You are now free to contact your potential buyer directly, answer the enquiry, organise viewings and sell!
Please note: You have 36 hours to purchase & unlock your lead. After 36 hours your lead is still available to be unlocked by you, if you wish. However, it will no longer be exclusive to you and will be offered to a nearby agent - we do this because we do not want to keep our buyers waiting!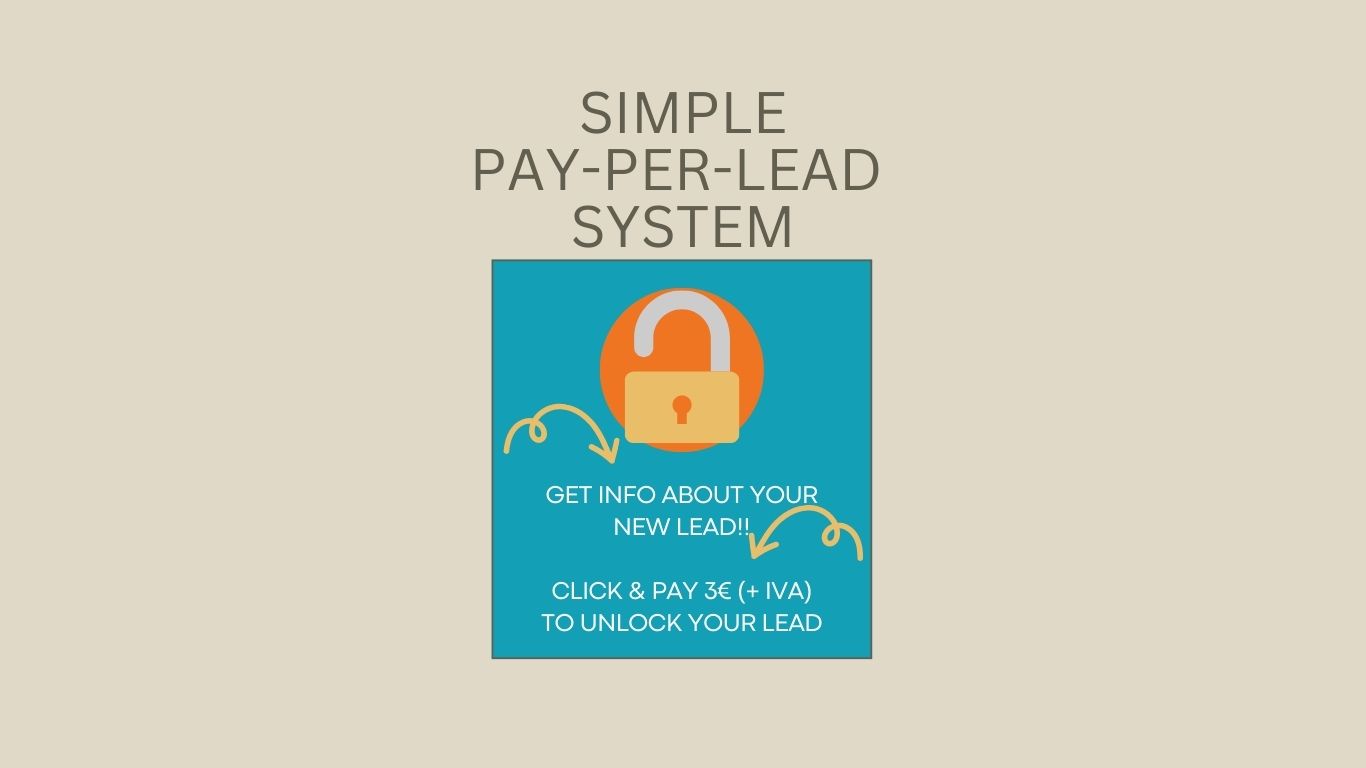 Updated 1st June 2023