PROPERTIES TO REFORM IN SPAIN
Bargain Properties for sale in Spain
There are many Spanish properties all over the country that are for sale and in need of reforming.
The extent of reforming a property can vary from minor cosmetic works, painting and new bathrooms etc to some properties that have been left to ruin and will need to be completely updated with new electrics, plumbing and maybe even a new roof.
Renovating properties in Spain can be a very attractive proposition when you consider that's there is a limited amount of new plots available for new builds as these are determined by the long term town plans.
In some cases, the land alone is worth more than the property that is being sold on it!
RENOVATING SPANISH PROPERTIES
Planning permission in Spain
In the case of almost all building works, you will need to obtain planning permission and a building license from the town hall.
THINGS TO LOOK OUT FOR WHEN CHOOSING PROPERTY TO RENOVATE OR REFORM IN SPAIN
If you are looking to purchase a rural property to reform, you must check on which land category that the property falls into. If the property is on Rustic land the legal assumption is that you cannot build so will have to justify the project according to the local and regional regulations.

If the building or property is on rustic land then you may not be able to extend the property. Always check that the previous owners have not extended the property illegally. Compare the square metreage permitted to the square metreage that is there.

Check if there are any aesthetic or historic reasons why the local authorities may wish to preserve elements of the building before planning your reform.
Building Licenses in Spain
There are two types of building license –
· Obra mayor - Building Licence for major works. For example building an extension on the property.
· Obra menor – Building license for minor works.
PROJECT HOUSES - SPAIN
Spanish Building Rules and Regulations
Before starting any reform work on a property, check with the local town hall as to their specific building rules and regulations. These can vary from town to town so it is imperative to find out what is relevant, to where you have purchased you new Spanish property.
If you are wishing to extend the square meters on your new property for instance, there are different local urban rules as to how much percentage of the plot you are able to build on.
How much should you pay for a building you wish to renovate?
The calculation is simple….
The value of the completed project, less the total costs of renovation including professional fees, less something for your time and effort.
The resulting figure equals the maximum you should pay for the renovation. This is known as the Residual Valuation.
BUILDERS IN SPAIN
Building your Dream House in Spain
By adhering to the rules and regulations of Spanish building laws, and researching and finding the right builder for the job, you could soon have your dream house renovated and ready to enjoy your new life in the sun.
TV OPPORTUNITY
If this sounds like the project for you, then why not contact us and be part of a new TV series which will be following couples or families as they transform a derelict or run-down property into their Dream home in Spain or Mallorca.
MY DREAM DERELICT HOME IN THE SUN
The casting crew are at the early stages of casting, and are looking for people preparing to take on such a project. Why not get in touch and have your journey to your new dream home in Spain documented forever!
SIGN UP HERE TO BE PART OF THE NEW TV SERIES MY NEW DERELICT HOUSE IN THE SUN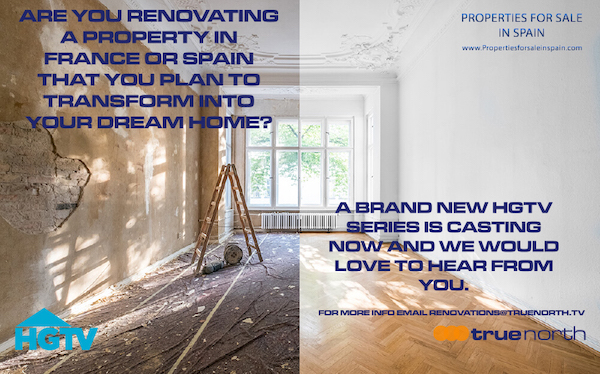 Updated 24th Feb 2023