ABANDONED PROPERTIES FOR SALE IN SPAIN
Cheap Spanish properties for sale
If you are looking for a renovation project, there are many derelict properties for sale in Spain.
By buying a derelict property at a reduced price, it can offer you the opportunity to renovate the derelict property into your dream home in Spain. There are many abandoned properties and traditional farm buildings for sale in Spain that have been neglected and left to ruin.
BUYING DERELICT PROPERTIES FOR INVESTMENT IN SPAIN
Investing in Derelict Properties in Spain
Many people purchase derelict buildings as an investment, as you can buy cheap properties from either the Spanish banks as repossessed properties. Or purchase properties from many Spanish family's, that have had the properties for years but have neglected them and left them to decay.
Many derelict houses are purchased in Spain for their traditional style and original features that can be preserved and renovated. Adding modern twists when renovating old properties works amazing well, and can create a spectacular property for resale or for you to enjoy yourself.
RENOVATING SPANISH PROPERTIES
Tax Breaks when buying a Derelict Property in Spain
On some occasions their can be certain tax breaks and other financial aids when buying a derelict property in Spain. These are sometimes available from some Spanish Municipalities as an incentive, to reuse and revive old abandoned properties in Spain and make them habitable again.
If it is your dream to renovate and transform a derelict Home in the sun then HGTV want to hear from you!
HGTV are making a brand new series following some of Britains bravest Brits as they rescue and renovate unloved, unkempt and derelict homes in Spain. This new series follows the success of My Dream Derelict Home.
The film crew wish to follow a couple or family who are right at the start of their project. It could be a dilapidated cave in Andalucia or a neglected farmhouse in Spain's beautiful countryside. If you wish to be part of this new TV program simply click on the image.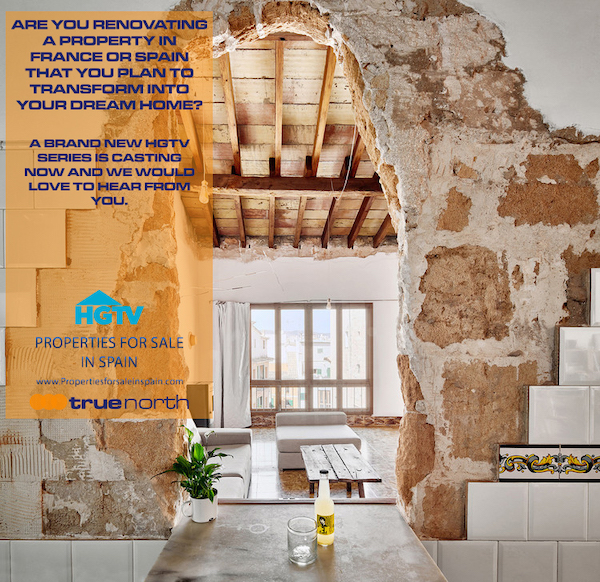 Updated 23rd Feb 2023